This case shows the home of a retired professional couple who downsized into a completely refurbished flat. Within 3 months of moving in they both suffered debiltating illnes despite previoulsy being in the best of health. They went on holiday and felt much better only to feel unwell again within a day or two of return. The husband, a retired Chartered Surveyor considered building related illness and requested us to undertake a survey and investigation. The following photos show typical findings of no visible mould but  infra red andsurvey and moisture mapping confimed suspect areas. Air sampling confirmed the presence of toxic mould. Intrusive investigation was undertaken which  confirmed a long term camouflaged roof leak.You will note the only way the couple could rteurn to their home prior to decontamination was to wear full personal protective equipment . .
The ceiling, cornice and walls were all redecorated prior to their purchasing the property.
Redecoration can camouflage water damage and resultant mould.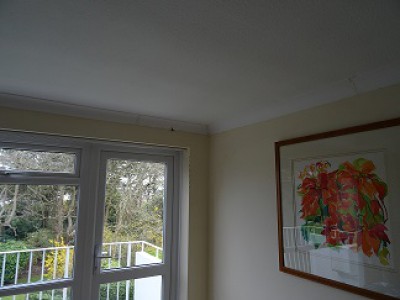 Following confirmation that the walls and ceiling were wet and the presence of toxic mould, insurers agreed to intrusive investigation and repair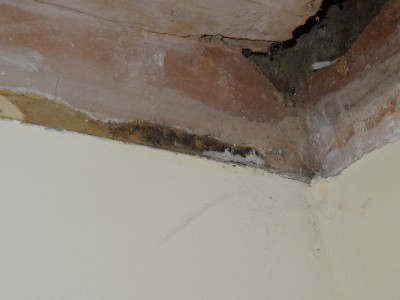 My client a retired senior airline flight crew suffered debiltating illness within months of moving into this completely refurbished flat. There was a requirment to re enter the flat to gather personal items prior to decontamination. This very brave lady went through a brief training session and we held her hand during her visit to the contaminated flat.
This study shows the home of a retired professional couple who downsized to a completely refurbished flat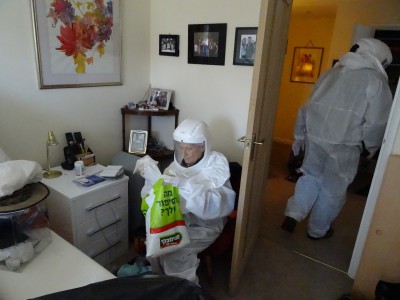 Mould sampling and investigation
We   provide mould sampling  and  mould  investigation which must start with a survey to identify the cause of the elevated moisture levels required for mould growth. Moisture mapping is undertaken with a variety of equipement ranging from infra red cameras to various types of conductive and radio meters.
The mould investigation must focus on all apects of both visible and hidden growth of both live and dead spores, recognised as total spores or non viable. 
We work independently for builders home or property owners and insurers providing mould  investigation for the presence of toxic and allegenic mould. We also inspect and assess the cause of mould and possible effects on building occupants with specific assessments of hazard and risk to health.
Toxic  mould inspections and mould surveys are designed to provide you with the answers you require such as:
Why is there mould?
Whose fault or responsibility?
What is the moisture source?
Is it life style or building defect?
What areas are affected?
What type and quantity of mould?
What are the health hazards
How to get rid of mould and prevent its return.
We provide  many types of internationally recognised sampling procedures designed to identify the specific requirements which include:
Infra red surveys
Moisture mapping
Mould on site  air and surface sampling and analysis  for quantification but not genus.
Non Viable total spore count (Air)
Cuturable (growth ) sampling (Air)
Bulk sampling (surface and substrate)
Swabs and tapelifts (Surface)
All sampling is accompanied with a full report. See price list on cost page.
This sample report provides evidence of building defect and causation of toxic mould. The occupants realised they were probbaly suffering from building related illness and required evidence of contamination cause and effect. (Link to report)