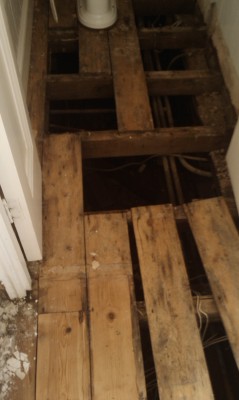 In the following photos we see how building occupants called in builders and "specialists" who didn't understand the dangers and problems associated with mould.
They identified that a water leak was present and that the walls and floors were wet. Mould was visible as was its associated odour. The contractor pulled up the floor, repaired the leak and left a dehumidifier in the lounge to collect the water and supposedly dry the building.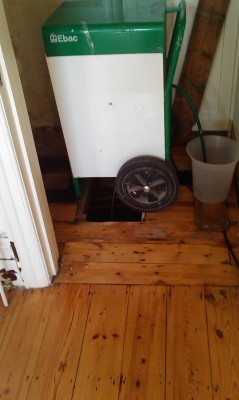 By opening the floor without controls and with the recognised presence of mould, the contractor may be responsible for spreading spores and mycotoxins throughout the property as air flows  from the sub floor forced  by external air bricks.
The result of this uncontrolled release could be the requirement of a total building and contents decontamination which could cost tens of thousands of pounds.
Liability could fall onto the builder or those that manage the or employ the contractor.
From our investigation this particular property was contaminated throughout although liability and responsibility is not currently proven or indeed investigated.